If you want to dive some incredible walls and pinnacles, or just want a taste of another island, grab a ferry or short flight for a daytrip or a couple of nights to:
· Saba
The Unspoiled Queen, for great hiking and spectacular scuba diving. A green forested tip of a dormant volcano with quaint white houses adorned with red roofs and green and white shutters. It's much cooler up in the mountain than on St Maarten and there are no night clubs, casinos or major shops. People come here to dive, hike and relax by the pool (only 1 volcanic beach that comes and goes on an unscheduled cycle).
· Saba Dive Package Special
When you book a dive on St Maarten, get 10% OFF on a Saba Dive Package.

Diving Saba - a must for serious divers!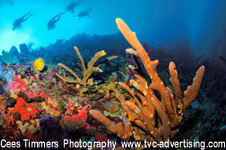 It is possible to make a day trip from St Maarten: By ferry you get to do 2 dives; by plane you get in an exciting 10 minute ride and a landing on the worlds shortest commercial runway, 3 dives and an island tour – well worth the visit!
As well as colourful and healthy reefs and reef fish, Saba's waters hide dramatic walls and pinnacles which are actually the summits of underwater mountains, beginning at around 85 feet and extending into the abyss. The pinnacles draw thousands of seasoned divers from all over the world to Saba. These dive sites often have bigger fish and pelagics hanging around. When going for a deep dive, which is between 18m/ 60ft and 40m/ 130ft, it is preferable to be certified as an Advanced Open Water diver; however to make sure that all Open Water Certified divers can enjoy the fantastic dive sites of Saba, the only requirement of the dive shops over there is that you have made at least 1 dive within the last 6 months. To make the most of your diving in Saba it is suggested that you use a dive computer - this will allow you to dive your personal non-deco profile instead of being limited by the dive sites max depth. The Scuba Shop has a great selection of dive computers for sale. Rental computers are also available.

Snorkel Saba
While Saba has incredible deep dives it is a bit short on easily accessible snorkel sites; however when the weather is calm, Saba offers beautiful snorkeling at Torrens Point, where you can snorkel through a natural tunnel right through a finger of lava. Access is from the black volcanic Wells Bay beach, Saba's only beach. Another pretty site is to snorkel over the 15ft to 20ft shelf above Tent Reef. The easiest and safest way to snorkel this site is to go out by boat with one of the three dive centers on Saba.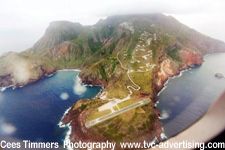 How to get to Saba
Saba is just 1.5 hours by ferry (Wednesday through Sunday) or just 10 minutes by plane (everyday) from St Maarten and can be visited in a day.

Book Saba - Click here for Saba Dive and Snorkel Reservations and more info on your (day) trip to Saba.
[top]

· Sint Eustatius
The Golden Rock, nicknamed after its golden trade era during the 17th and 18th century. This island has lots of its history preserved and offers great diving and hiking too. Statia is off the beaten track and only has four lovely places to stay.

Diving Sint Eustatius
Statia has beautiful underwater flora and fauna, not to mention the coral encrusted lava flows stretching into the abyss. Also old and new wrecks, including the 320ft long Charles Brown sunk in 90ft of water in 2002, walls and colourful coral gardens belong to Statia's numerous dive sites. A must do is a night dive to see hunting lobsters and barracudas trying to catch a bite with the help of your dive light.
A dive site that will make a treasure hunter's heart beat faster is the Blue Bead Hole. Blue Beads or 'trading beads' were made in the early 1700's for trade with indigenous people around the world. In Statia some of them ended up in the sand at about 60' or 18m in the middle of the harbour. So while some people are looking for macro photo opportunities here, others prefer looking for the beads which are the only artifacts that if found can be kept by visitors.

Snorkel Sint Eustatius
There is one big easy-from-land accessible snorkel site on Statia, right off the shore in Lower Town, around the underwater ruins of the former town wall and buildings. Over the centuries Statia has been tilting into the sea and that's why many of the ruins of the former warehouses and the town wall are now underwater, which makes for a great snorkel site. For other snorkel sites hop on board with one of the dive shops.

How to get to Sint Eustatius
Statia is just a short plane ride from St Maarten and can be visited in a day.

Book Sint Eustatius - Click here for Sint Eustatiaus Dive and Snorkel Reservations and more info on your (day) trip to Statia.
[top]

· Anguilla
This long, low lying island is known worldwide for its more than 30 white sandy beaches and exclusive hotels where you can most often spot celebrities enjoying this British island of total relaxation.

Diving Anguilla
Like St Eustatius and Saba, Anguilla also has three dive operations that are more than willing to take you out snorkeling and diving the big blue. Anguilla has a lot of wrecks of which most have been sunk on purpose in the upright position to serve as an artificial reef. Over the years they've become overgrown with corals and lots of fish and other marine creatures have made these wrecks their home. The biggest wreck is The Sarah and the only wreck that didn't sink on purpose is the Kathlee H, she burned out and sank. Beautiful reef systems are found around Sandy Island for instance and a wall dive can be done by experienced divers at Dog Island.

Snorkel Anguilla
Shoal Bay East Beach offers several snorkel opportunities alongside the limestone ridge that protects the beach from the waves. A 40 minute snorkel trail starts from the Eastern point where the reef touches the beach, you follow the reef heading East and follow it around to the North all the way around back to the East.
Little Bay is another favourite snorkel spot in Anguilla, this secluded bay has a small beach with shade all morning. Little Bay can be most comfortably reached by boat or if you're up to the steep descent by rope from a cliff, you could access it from land too. The underwater world boasts loads of small fish, baby turtles, stingrays and brown pelicans diving into the water to catch a meal.

Prickly Pear Cays
One of the "must visit" snorkel areas of Anguilla is the uninhabited islands of Prickly Pear Cay. When staying on St Maarten / St Martin we highly recommend making a day trip on a sailing catamaran to visit this beautiful underwater park. It is also possible to go from St Maarten by speed boat. Prickly Pear has two small restaurants offering delicious barbecue fare and cold drinks including really, really good Pina Coladas.

Snorkel trips from Anguilla can be done with either of the three dive shops located in Road Bay as all offer trips to Prickly Pear, Sandy Island, Little Bay, Pelican Bay, Sea Fan Reef and Captain Turtle.

Anguilla's crystal clear waters offer great opportunities for underwater photos, see our Photography Tips on how to make that perfect picture and our Underwater Camera Center to purchase a new camera or accessories for your existing camera.

How to get to Anguilla
Anguilla is easily accessible by ferry (20 minutes) from either Marigot or Simpson Bay and is easily visited in a day. Prickly Pear Cays can be visited on a day trip on a sailing catamaran or powerboat from St Maarten.

Book Anguilla - Click here for Anguilla Dive and Snorkel Reservations and more info on your (day) trip to Anguilla and / or Prickly Pear Cays.
[top]

· Saint Barthélemy
The small French island of St Barths is known for its upscale shopping, dining and lounging in luxury. Diving and beaches are also great and you may just find yourself rubbing shoulders with the rich and famous who love this island too.

Diving Saint Barthélemy
St Barths' Reserves Naturelles offer great diving with lots of colourful fish and corals on walls, rocks and boulders. Great sites are found around the South tip of Anse de Colombier and right in front of Gustavia Harbour, the main town. One of our favourites is La Baleine with huge barrel sponges up to 6 feet high. There are ample dive shops on St Barths, three of which in Gustavia, who will take you out to their great sites. If you like to sail and dive consider chartering a sail yacht from St Maarten/ St Martin and dive the beautiful sites of uninhabited island Ile Fourche (located between St Martin and St Barths), an area rarely visited by the St Barths dive shops since it's a bit far from Gustavia.

Snorkel Saint Barthélemy
For lots of turtles snorkel at Lorient Beach on the Northside of St Barths, you'll find them foraging on the sea grass beds. Another hotspot for turtles is Anse de Colombier, also known as Rockefeller beach, the only way to get here is by 20 minute hike from the end of Flamands Road, or join a boat tour from Gustavia. For a free spirited snorkel in the nude, check out the bay of Gouverneur Beach. And probably the best snorkel site of St Barths is the uninhabited island of Ile Fourche, a great half or full day boat trip from St Barths.

Overnight in Saint Barthélemy
If you'd like to spend a night on St Barths it's very easy to find high end hotels with all the luxury you can think of. If you're traveling on a smaller budget, consider the Sunset Hotel across the ferry landing in Gustavia, it's around EUR100 per night for a double room, depending on the time of year.
Itinerary for a great two day St Barths break: arrive by ferry, check in Sunset Hotel, afternoon island taxi tour, pre dinner shopping, dinner at Eddy's in Gustavia, morning dive, walk over to Shell Beach for lunch and a snorkel and then ferry back to St Maarten/ St Martin.

How to get to Saint Barthélemy
St Barths is easily accessible as a day trip by ferry from St Maarten / St Martin with ferries leaving from Simpson Bay, Philipsburg, Oyster Pond and Marigot. The ferry trip is between 45 minutes and 1.5 hours depending on your departure point. There are also daily flights from both St Maarten and St Martin with a very exciting landing on the short, downhill runway in St Barths.

Book Saint Barthélemy - Click here for St Barths Ferry, Dive and Snorkel Reservations and more info on your (day) trip to St Barths.
[top]


Contact Us to booking your trips, whether diving or not, to these great islands, all between 12 to 20 minutes away by flight or 20 to 75 minutes by ferry.