The Scuba Shop Wholesale
Who are our Wholesale Customers? Retail Stores, Dive Centers, Dive Clubs, Commercial Divers, Water Sport Centers, Fire Department, Marine Parks, Coast Guard, Snorkel Excursions and Charter Boats located in the Caribbean.
The Scuba Shop wholesales both Snorkel and Scuba Equipment at very competitive prices. St. Maarten is a Duty Free island and we pass this savings on to you the customer.
Snorkel Equipment - To bring your customers a perfect day of snorkeling, you need good snorkeling gear. Gear that is sturdy, rugged, has an easy fit and has proved to be durable. Gear that also doesn't show dirt or wear and tear quickly and still looks nice and professional. In the last 15 years since we have been in business on St Maarten, we have sourced the optimal rental snorkeling gear. One of the things we have learned is that masks with skirts made of black silicone are far more durable and make a better fit than the cheaper masks with rubber or PVC skirts. Black silicone also doesn't show dirt in a skirt or mouthpiece. Unfortunately snorkeling gear does not last forever, so we have in stock spare buckles and straps for all masks and fins in our rental program.
Scuba Equipment - Whether you need new dive gear for your dive school, luxuary gear for your charter yacht, or spare parts (we carry an extensive stock of spare parts for all equipment that we sell) to service what you already have it makes sense to purchase from The Scuba Shop. A big advantage is that we stock items from many different suppliers, allowing you to choose your favorites from each brand instead of being locked into a package deal. Need a lot of gear? We work very closely with our suppliers to get you the best prices possible.
Not a Wholesale Customer but need to make a single Bulk Purchase? If you need more than 6 sets of the same gear ask about our Volume Discounts.
The Scuba Shop is an Authorized Distributor for Scubapro, Snorkelpro and SubGear.
The Scuba Shop is an Authorized Dealer for Mares, AquaLung, SeaQuest, Suunto, Sherwood, Trident, Princeton Tec, Brownies and Bauer.
Service Kits and Spare Parts - We stock a very large selection of original Service Kits and spares for your regulators, consoles, BCD's, tanks and compressor - including hoses, console modules, integrated weight pockets, mouthpieces, computer batteries and tank valves.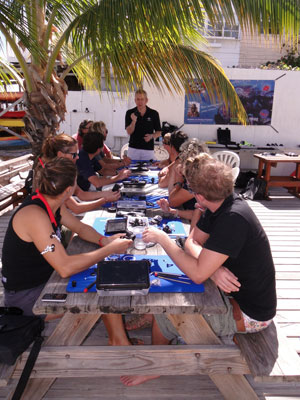 Scuba Equipment Service Seminars
Every year, The Scuba Shop organizes Service Seminars given by factory Certified Trainers.
On the left, SCUBAPRO Seminar Feb 2013.