Fishing
The deep waters around St Maarten boast game fish like Tuna, Mahi Mahi (also known as Dolphin Fish or Dorado) and Wahoo.
Going out sailing for the week? If you are chartering a yacht you can Rent a trolling rod or purchase a hand line and lures.
Fishing from your Charter Yacht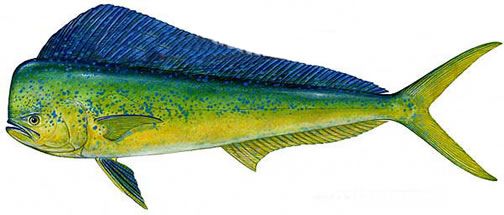 Sailing around the Leeward Islands offers a great opportunity to catch your own meal by trolling. Game fish like Tuna, Mahi Mahi (also known as Dorado and Dolphin Fish) and Wahoo swim around in the deeper waters surrounding St Maarten/ St Martin and serve for an excellent meal on board. No fishing permit is necessary in the Leeward Islands, the only thing you have to take into account is not to fish within the Marine Parks of the islands or in Anguillan territorial waters.
At The Scuba Shop you can Rent trolling rods with either Small or Big reels. Reservations are necessary so that we can make sure a rod will be ready for you.
Shore Fishing and Bottom Fishing
Shore fishing and bottom fishing are not recommended nor supported by The Scuba Shop. The main reasons for this are: 1) due to Ciguatera Poisoning it is not safe to eat the reef fish you catch, therefore the catch is just for sport and 2) our fragile marine ecosystem is so abused by us humans already that we really don't need to add to the crises – rather snorkel or dive with the fish if you want to see their magnificent beauty.
Fishing while Snorkeling or Scuba Diving - Spear Fishing
While you are snorkeling or scuba diving, let your motto be take only photographs and leave only bubbles.
Spear fishing and the removal of any items from the sea while scuba diving is generally prohibited, and this is very strictly enforced in Anguilla, St. Barths and Saba in particular. It is only with this strict conservation that we can maintain healthy fish populations around our islands. St. Martin, St. Maarten and St. Barths all have Marine Parks which protect the reef systems with rules and regulations which specifically prohibit spear fishing and removal of any items from the sea while scuba diving and in many cases while snorkeling. In addition, the CITES International Treaty has severe penalties for the transportation of Turtle Shells, Conch Shells and many other sea shells and corals.
Spear guns are prohibited on the Dutch side of St Maarten. On the French side spear fishing is allowed outside of the Marine Parks, but always without scuba diving gear.
The Scuba Shop does not sell spear fishing equipment (... ***) and does not support this sport in our fragile waters. It is just too easy to pillage the shallow reefs with just snorkel gear, and the deeper reefs with scuba – not to mention the damage poorly aimed spears do to the coral.
(*** ...with the exception of spears used in the control / eradication of the invasive Lion Fish. If you are a dive professional or Marine Park, please Contact Us for information on what we stock.)
Ciguatera Warning - Unfortunately, ciguatera fish poisoning does exist in the areas described in this guide. If transmitted to humans by the consumption of affected fish, it can be very serious. This in itself is a very sound reason for shooting only photographs.
Click here for more Information on Ciguatera Poisoning.